For an unforgettable trip to the Maggies
We first arrived in the Maggies in 2016, having left on a whim to enjoy a beautiful long weekend in June. We needed a rest, but what we found on this archipelago was a new home that would change the next few years of our lives.
After two years of visiting the archipelago, we purchased the Blanche de l'Ouest property and started dreaming about Les Rochers. We shared our newfound passion for this corner of the earth with the talented people at la Shed architecture, who made our dreams for Les Rochers come true. They were also the masterminds behind the design of our private residence.
We are passionate about design, travel and architecture, so we are committed to creating memorable spaces and travel experiences. It's what we love and we want to share it with you!
Visit us in the Maggies! We cannot wait to welcome you.
— Your hosts Vincent & Jan-Nicolas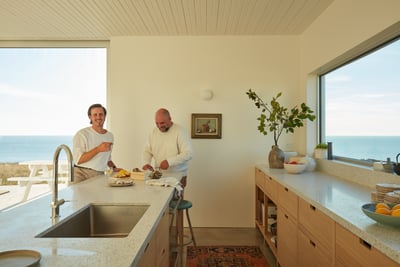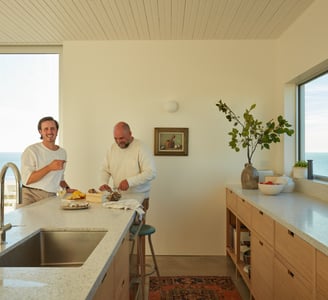 Check-in: 4 PM
Check-out: 10 AM
This allows enough time for the cleaning team to prepare the house and have it ready and spotless for the following guests. Unfortunately, we cannot accommodate early check-ins or late check-outs in the summer months. That being said, we can offer a safe room for your luggage should you want to unload your car and head to the beach!
Good to know before you arrive
Distances
Except for the beach, not a lot is within walking distance from the house. We recommend a motorized vehicle for your transport.
Grocery shopping
If you arrive at night, we recommend stopping by Jalco, our neighbourhood grocery store, to get a few food and beverage basics. There are IGA grocery stores in Cap-aux-Meules and Havre-aux-Maisons.
Lock
The house is equipped with an electronic lock. You will receive the code to unlock the door 24 hours prior to your arrival, and the code will be valid for your entire stay.
Noise
The house is located in a remote and calm area of the island, and we ask that our guests respect the neighbours by limiting noise past 10pm. Parties are prohibited on the property, as well as fireworks, camp fires and drones. The beach is a more suited place for those activities.
Restaurants and activities
In high season, we recommend booking your excursions and restaurant tables in advance. Prior to your arrival, we will send you a few of our recommendations.
Of course, the warm summer months are a formidable period to discover the archipelgo and its many beaches. However, we do love the more quiet months of the year when it's easier to get a sense of the local life, and discover the destination at a slower pace.
May & June
They are the two busiest months in terms of commercial fishing, but not necessarily for tourism! It is the post-winter awakening when fishing boats are out at sea and fresh seafood is widely available and makes for memorable meals.
Early September to mid-October
During this period, the weather is still very nice and warm on the Maggies. Most restaurants and shops are still open and less crowded than in the peak season, and rental prices are more affordable. A well kept secret!
Winter
Visiting the Maggies during winter is a once-in-a-lifetime experience. During the cold season, we will be delighted to welcome you at Blanche de l'Ouest, open all year round.
Getting to the Magdalen Islands
By plane
During the high season, Air Canada, PAL Airlines and Pascan fly to the Islands daily, often on non-stop routes from Montreal and Quebec City. PAL Airlines and Pascan fly to the Islands daily year-round, often with flights that have one or two short layovers.
Important: Pascan flies from Montreal Trudeau (YUL) as well as from Saint-Hubert (YHU). Don't forget to include both departure airports in your search when looking for flights.
By road and ferry
The ultimate road trip experience! To get to the Maggies from Montreal, the drive is about 12 hours and the ferry ride is 5 hours. We recommend splitting the journey in two with a quaint roadside motel stay in between.
In high season, there is a daily ferry connection between Cap-aux-Meules and Souris operated by CTMA. If you have a hard time finding a crossing reservation in high season, know that there are usually night crossings added to the regular schedule to accommodate the busiest weeks of the season. In 2022, 20 additional summer crossings were added to the schedule (French only).
You can also travel without a reservation, as they do not overbook the ferry. There are usually a few vehicles that get on the boat at each crossing with no reservation, using the stand-by line.
The Cap-aux-Meules port is a 30 minutes drive from the house.
Car
There are three car rental agencies available: Location 199, Leblanc and Agence de location des Îles. You can also choose to use the Turo app, or rent directly from someone.
Bike
If the wind does not scare you, the archipelago is a great destination for cyclists! You can bring your own bike (we have some basic bike tools at your disposal) or rent a bike at Pédalier. Electric bikes are also gaining popularity and can be a great help when riding in the opposite wind direction! Éco-vélo offers some for rent.
Scooter and motorbike
Agence de location des Îles also offers scooters and motorcycles for rent. While a scooter holiday sounds like an idyllic idea, be aware that sometimes a 50cc engine does not go very fast when facing the wind!
Taxi
There are a few taxis but no Ubers on the archipelago. Be aware that the house is in a remote location so there usually is a long wait time and the fees do run high due to long distances. While it's a good backup plan, we do not recommend relying on taxis as a mean of transport during your stay.